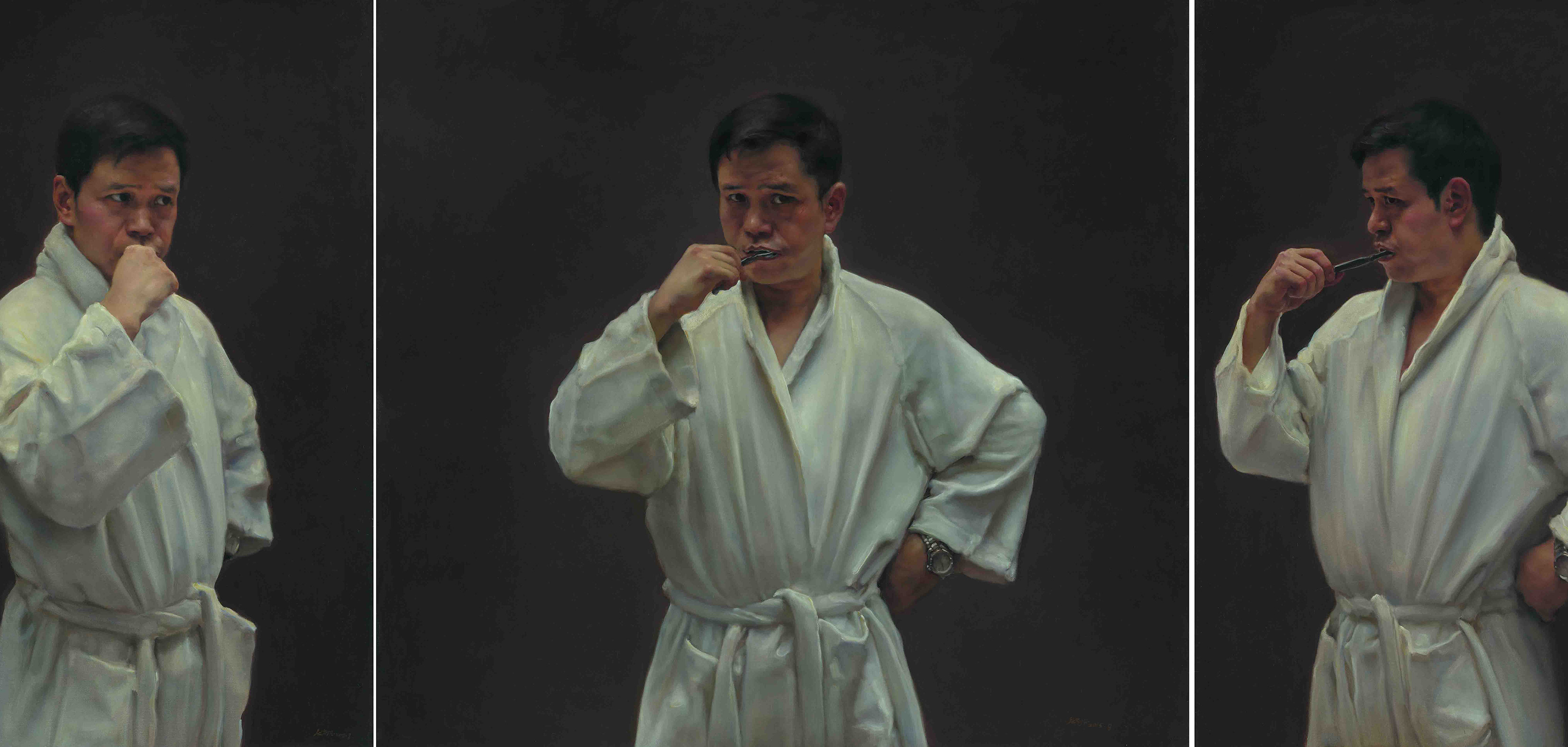 Pang Maokun at Palazzo Medici Riccardi
29-06-2018
"Attualità nel passato. La pittura colta di Pang Maokun"at Palazzo Medici Riccardi puts on display the works of one of the most important contemporary Chinese artists, currently holding the role of Rector at the Sichuan Academy of Fine Arts.
The display, first solo exhibition of Pang Maokun in Italy, presents about twenty new oil paintings and a section dedicated to drawing.
Maokun proposes "up-to-date" versions of some of the great classics of Italian painting in a vaguely Duchampian style, but re-elaborating the idea of the Monnalisa with the mustache by the French artist in a very personal way, supported by an impeccable technique. This way the leonardo's Lady with the ermine winks in our direction wearing a leather jacket, and the artist becomes a spectator in the background of the Arnolfini Portrait by Jan van Eyck, with his red polo shirt and blue-rimmed glasses also worn by the little dog. He modifies the perception of well-known scenes or he infiltrates them with a provocative and ironic effect.
The many drawings on display, in the same way, merge the classic and the contemporary, the past and the present, the West and the East.
Maokun is the only protagonist in the Midnight triptych, a self-portrait of the artist in a bathrobe, while brushing his teeth.
A refined, unconventional image, and inevitably ironic.
Also on display, a series of female portraits, beautiful and charming Chinese women, to whom he dedicated a large part of his recent production.
An unusual exhibit, fun, surprising, not to be missed. You have time to see it until July 28th, don't waste your time!
Palazzo Medici Riccardi, Via Cavour
Opening time: from 8:30 – 19.00, last admission at 18:30 | Wednesday closed.