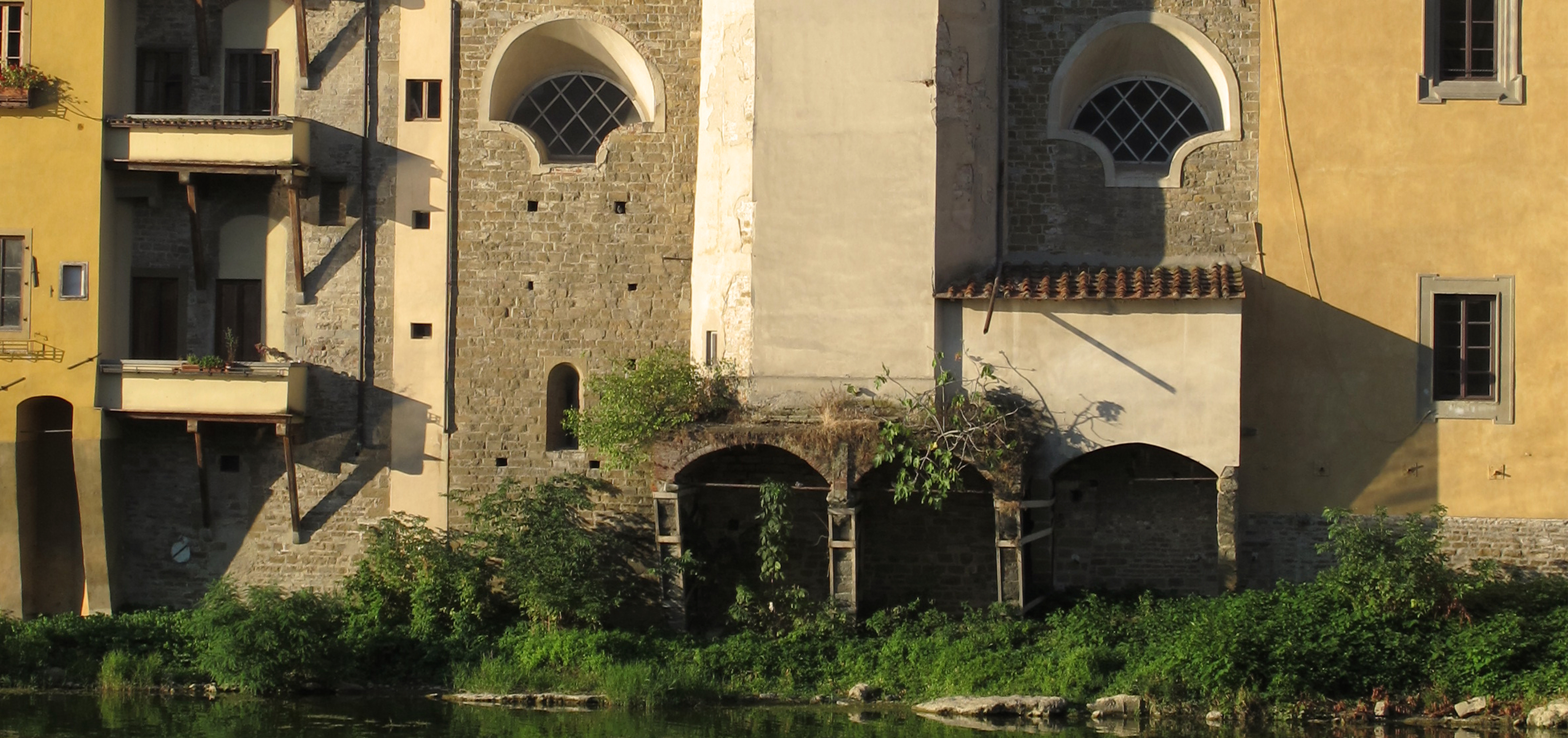 The church with its bum in the Arno
02-03-2018
Little known in Florence is the Church of San Jacopo Sopr'Arno, a structure of ancient origin built in Romanesque style. Dating back to the X-XI century, it gave its name to the borough that was built around it, Borgo San Jacopo, in the Florentine Oltrarno.
Giovanni Villani, Florentine historian and chronicler, mentions it in his texts as already existing in 1078, when the second circle of walls was built.
This ancient church has undergone several modifications over the centuries, but the restorations carried out following the 1966 flood brought back to light many elements of the original Romanesque structure.
Vasari recounts that in 1418 the Ridolfi family commissioned Filippo Brunelleschi a chapel for which the notorious Florentine architect created a smaller-scale dome than the one he soon would have designed for the Cathedral of Florence. Unfortunately, the chapel and the dome were destroyed years later in a renovation of the church and it remains no trace of them, whereas is still present today the portico added in 1580 and coming from the Church of San Donato in Scopeto which was demolished during the fortification works in sight of the siege of 1529.
Result of a following intervention is also the bell tower, built in 1660 following a design by Gherardo Silvani.
The church was once known in Florence especially for the Palio dei Navicelli in the Arno, which was held every 25th of July until 1250, in honor of San Jacopo. The boatmen competed in a regatta between Ponte Vecchio and the Santa Rosa kiddle. The departure of the "navicelli" (boats) took place right on the bank of the Arno river below the church.
Observing it from the Santa Trinità bridge, one notices that the particularity of this Church is represented by the fact that the apse rests on counterforts, thus protruding over the river. When the Arno river is full, the base of the apse is lapped by waters, for this reason it was affectionately nicknamed by the Florentines "the church with its bum in the Arno".
Today a Greek Orthodox Church, the Church of San Jacopo Sopr'Arno is certainly an unusual place that is not often found in tourist itineraries, but it is also a piece of Florence's history that is well worth visiting.