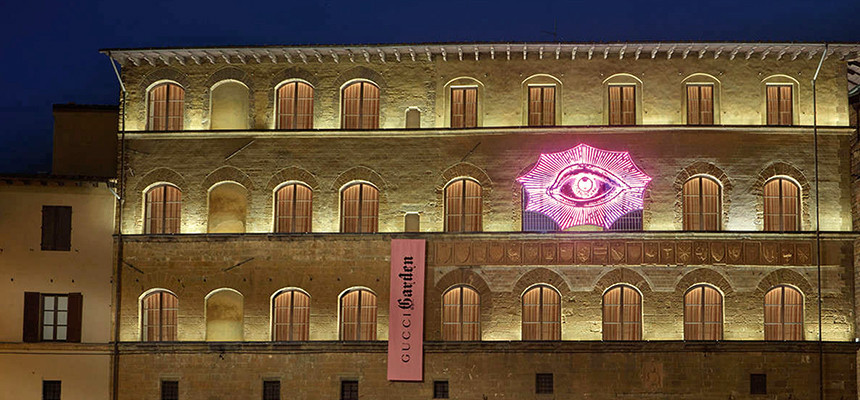 GUCCI GARDEN
19-01-2018
Last week the Gucci Museum opened the doors of its freshly redesigned spaces; not merely a museum anymore, it is now called Gucci Garden, Alessandro Michele's new eclectic creation.
Situated in the 14th-century Palazzo della Mercanzia in Florence, Gucci Garden is a bazar-like museum where you can find a bit of everything: clothing, shoes, accessories, bags, books, postcards, maps, custom-printed boxes and much more.
On the ground floor, the boutique sells products exclusively designed for the Gucci Garden that you won't be able to find in any other Gucci stores.
Also on the ground floor we find the Gucci Osteria, a restaurant curated by the three-Michelin-starred chef Massimo Bottura, of Osteria Francescana, who has created a menu that includes iconic dishes and variations of the classics of Italian cuisine.
The first and second floors of the palace are occupied by the Gucci Gallery, an unconventional museum space curated by Maria Luisa Frisa. Here the history of the Gucci brand is retraced by not only a display of clothing and accessories, but also video installations, artworks, documents and graphic works.
While you can access the ground floor free of charge, the entrance to the gallery on the first and second floor costs 8 euros. If for some reason you think it's not worth the price, you should know that half of each ticket sale will be donated to support restoration projects in Florence.
Plants, flowers and animals, especially snakes - protagonists of the Gucci collections throughout the years and Alessandro Michele's favourite designs - populate the Gucci Garden. An eclectic, enchanting place that we are sure is going to be the top of the list attraction for all the fashion lovers visiting Florence.